12 Sep

This Week: The Crazy World of Trading Gold
This Week: The Crazy World of Trading Gold
September 12th, 2018
After our discussion on the Keltner Channel system, I got some requests about Gold.
So let's take a look!
The first thing to notice is that Gold is a wild one. It trends like crazy–in both directions. People get very emotional about Gold, going hyper-bullish at times and sky-is-falling bearish at other times. It's nice to be on the right side but scary if it's going the wrong way.
It's very hard to be a casual trader and trade Gold.
But, of course, this sort of profile works well with the Keltner Channel system we talked about last week. The Keltner Channel system is supposed to alert us when things are getting abnormal, and Gold can get very abnormal.
So, once again, I applied the default settings to Gold and here's the Performance Report: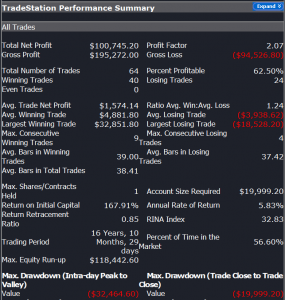 As you can see, it generates a lot of profit. But it also creates a lot of drawdown. Here are the details of this system:
System: Keltner Channel Breakout on Gold
Philosophy Behind It: "Normal" pricing occurs within the Keltner Channels. A move outside the channels potentially signals a breakout move.
Need Special Indicator? No. Keltner Channels come in all trading packages.
Chart: Daily
Instrument: Gold
Long or Short? Long Only
Entry: Break above Keltner Channel
Settings: Keltner Channel set to default settings (20 length, 1.5 ATR)
Hypothetical Profit: $100,745
Hypothetical Max drawdown: -$32,464
Profit target: none
Stop loss: none
Timed exit: 37 bars
Trade size: 1 contract
Hypothetical account size: $10,000
Test Period: 2001-2018
Number of Trades: 64
I did not use a stoploss or a target on Gold. I just let it run wild.
But I did use a timed exit– enough was enough on some on these runs. I came up with 37 bars after doing some testing (you might know that I like holding periods of 30-60 bars on Daily charts).
And according to Tradestation, trading Gold this way was more profitable than buying-and-holding over the same period.
In addition, the Keltner system produced just one-third of the drawdown of buy-and-hold.
I think there are ways we could improve this system, but, as it stands, it makes money and beats buy-and-hold substantially.
To see the weekly YouTube video that talks about trading Gold on the Keltner system, go here.
That's all for this week. More emails on systems coming this week for anyone on the email list, and you can join the email list here.