03 Oct

The RSI System With a Surprising Twist
The RSI System With a Surprising Twist
October 3rd, 2018
I love simple systems.
The less rules we have, the better our chances nothing will go wrong.
If we can find a simple system that's profitable, then we've most likely found a system that will last for a long, long time.
But simple doesn't have to mean close-minded.
For example, we've looked at RSI systems before and they've been nicely profitable.
In a simple RSI system, we get in when RSI tells us to and we get out when it tells us to.  We trust the simplicity and we trust the math behind the indicator.
But what if we didn't do that at all?
It seems logical that we should get out on an indicator signal if that's how we got in. Dance with the person that brung you, as the saying goes. But what if we didn't?
Just because we like the entry that RSI gives us, why do we have to exit in the exact same manner? Couldn't we enter on RSI and exit on something else? Would that be stupid, or would it make it better?
This week, we're going to look at the cross-pollination of indicators. We're going to enter with one indicator and get out on another.
For our first study, we're going to use the ES only because the data goes back the farthest. (If you're on the email list, you'll get emails about other instruments later in the week).
We're going to get in on the RSI, but we're going to get out on a cross of a moving average. The thinking is: when RSI goes up into Overbought, that may not mean the run is over. It may benefit us to use a more dynamic target that deals with actual price.
Here are the system details:
System: RSI With a Twist
Philosophy Behind It: Using a different exit based on price might allow us to be more profitable; RSI is great for finding a pull-back, but a different indicator is better for knowing when to exit
Need Special Indicator? No. RSI and MA are on all platforms.
Chart: Daily
Instrument: ES
Long or Short? Long Only
Entry: 1) Price must close into Oversold; 2) Then price must close up out of Oversold; 3) Enter at the Open of the next bar
Exit: When price comes from above and then closes below the Simple Moving Average (SMA), exit at Open of next bar
Indicator settings: RSI (10 Length/30 Oversold/70 Overbought); SMA (25 Length)
Hypothetical Profit: $58,854
Hypothetical Max drawdown: -$22,731
Profit target: none
Stop loss: none
Trade size: 1 contract
Hypothetical account size: $10,000
Test Period: 1999-2018
Number of Trades: 58
The Performance Report is here: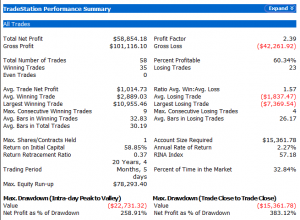 And here is the Report if you exited instead when RSI went into Overbought: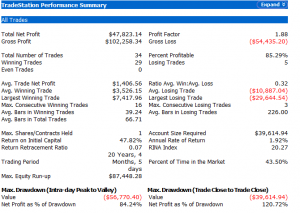 As you can see, the profit is similar but the drawdown is way worse. Exiting on a cross below the SMA seems to be more accurate and more profitable.
That being said, I'd like to look into using this combination on several other things. And that's what we'll do in the emails coming later this week.
You can join the email list here.
To see the weekly YouTube video, go here.
Disclaimer:
It should not be assumed that the methods, techniques, or indicators presented in these products will be profitable or that they will not result in losses. Past results are not necessarily indicative of future results. Examples presented on these sites are for educational purposes only. These set-ups are not solicitations of any order to buy or sell. The authors, the publisher, and all affiliates assume no responsibility for your trading results. There is a high degree of risk in trading.
HYPOTHETICAL OR SIMULATED PERFORMANCE RESULTS HAVE CERTAIN INHERENT LIMITATIONS. UNLIKE AN ACTUAL PERFORMANCE RECORD, SIMULATED RESULTS DO NOT REPRESENT ACTUAL TRADING. ALSO, SINCE THE TRADES HAVE NOT ACTUALLY BEEN EXECUTED, THE RESULTS MAY HAVE UNDER- OR OVER-COMPENSATED FOR THE IMPACT, IF ANY, OF CERTAIN MARKET FACTORS, SUCH AS LACK OF LIQUIDITY. SIMULATED TRADING PROGRAMS IN GENERAL ARE ALSO SUBJECT TO THE FACT THAT THEY ARE DESIGNED WITH THE BENEFIT OF HINDSIGHT. NO REPRESENTATION IS BEING MADE THAT ANY ACCOUNT WILL OR IS LIKELY TO ACHIEVE PROFITS OR LOSSES SIMILAR TO THOSE SHOWN.