03 Sep

Battle of the Indicators: RSI v. Stochastic

Battle of the Indicators: RSI v. Stochastic
Sept. 3, 2014
Some very smart people have said that one Indicator isn't really better than another one..but I don't believe them.
Okay, maybe I don't want to believe them.
I mean, there are dozens and dozens of Indicators, created by super-smart people who've made millions of dollars (allegedly). And if there are dozens of different Indicators, only one can be the best, right? Surely, one Indicator is better than another and one Indicator will make you more money. I refuse to believe otherwise.
Today, we will look at a battle between two of my favorites: the RSI and the Stochastic. As you know, I trade Robots that use the RSI Indicator to enter all of my trades. However, it has recently occurred to me that Stochastic might give me a better entry and, more importantly, a better exit.
What is a "better exit"? For me, a better exit would be one that rides the momentum better. It feels like RSI tends to linger while Stochastic gets out cleaner when price momentum dies. I desperately want out of my trades; my Robots just want a small, humble piece of the market each time and I want an Indicator that gets me out expeditiously.
So, I built a new Strategy with my programmer last weekend that gives me the option of using RSI or Stochastic for entries and exits. Now I can know for sure which Indicator works best.
For this battle, I used my USDJPY fifteen-minute Robot and kept all of the settings the same except for the RSI or Stochastic. Same trend-determiner, same numerical profit target, same time of day. The only differences between the two is the use of RSI and Stochastic and the stoploss. Because RSI and Stochastics measure market momentum slightly differently, I allowed the Stochastic Robot to have a different stop. Otherwise, everything else was the same. Let's see how it turned out.
Here is the Performance Report for the RSI Robot (trading about 1 full lot between 2003-2014):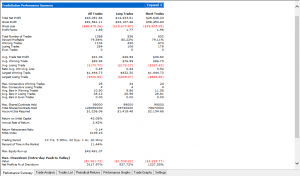 Pretty good. That's the one I trade with real money.
Here is the Performance Report for the Stochastic Robot: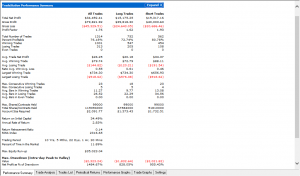 Not bad either. A few things jump out when comparing the two.
First, the RSI has a profit of $43, 081 whereas the Stochastic only made $34,492. But one thing I've learned when trading live is that the total profit isn't what matters. What matters is the profit to drawdown ratio. If you make a dollar and then lose a dollar, that feels awful. If you make five before you lose one, you feel much better.
That being said, the profit to drawdown ratio of the RSI Robot is 31:1. The ratio for the Stochastic Robot is 14.8:1. RSI wins again.
Other highlights: the RSI Robot has a 79% win rate versus only  76% for Stochastic. RSI wins as many as 25 in a row while Stochastic wins only 23. And the RSI Robot has an average profit per trade of $31.04, which is higher that the Stochastic average profit per trade of $26.25.
By any measure, RSI is clearly the winner over Stochastic. Of course, this may change if you trade a different financial instrument or a different time frame or a different Strategy.
But for me, RSI is still the heavyweight champion of the world.
Disclaimer:
It should not be assumed that the methods, techniques, or indicators presented in these products will be profitable or that they will not result in losses. Past results are not necessarily indicative of future results. Examples presented on these sites are for educational purposes only. These set-ups are not solicitations of any order to buy or sell. The authors, the publisher, and all affiliates assume no responsibility for your trading results. There is a high degree of risk in trading.
HYPOTHETICAL OR SIMULATED PERFORMANCE RESULTS HAVE CERTAIN INHERENT LIMITATIONS. UNLIKE AN ACTUAL PERFORMANCE RECORD, SIMULATED RESULTS DO NOT REPRESENT ACTUAL TRADING. ALSO, SINCE THE TRADES HAVE NOT ACTUALLY BEEN EXECUTED, THE RESULTS MAY HAVE UNDER- OR OVER-COMPENSATED FOR THE IMPACT, IF ANY, OF CERTAIN MARKET FACTORS, SUCH AS LACK OF LIQUIDITY. SIMULATED TRADING PROGRAMS IN GENERAL ARE ALSO SUBJECT TO THE FACT THAT THEY ARE DESIGNED WITH THE BENEFIT OF HINDSIGHT. NO REPRESENTATION IS BEING MADE THAT ANY ACCOUNT WILL OR IS LIKELY TO ACHIEVE PROFITS OR LOSSES SIMILAR TO THOSE SHOWN.